Adrian McCovy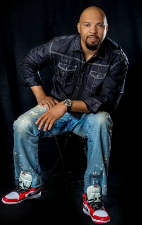 Bio
Adrian "Adee" McCovy is an American comedian, actor, and producer. His diverse cultural upbringing helped craft his understanding and appreciation to the art of stand up comedy. Born and raised in one of the toughest neighborhoods in South Central Los Angeles, the city of Watts, he managed to graduated from high school and obtain a college degree.
Adee grew a passion for comedy at an early age. Inspired by his uncle Wayne's knock, knock, jokes and funny stories. Adee strived to reach for something else outside of the streets and tough urban life. He became a real practical joker, and was not afraid to play "The Dozens" with kids or "Your Momma" jokes. Everyone in the neighborhood eventually knew him as "Funny", a nickname given to him by his uncle. Adee's comedy derives as life as a child in South Central Los Angeles and his life experiences. Remarkably "Funny" he is, using his street confessionals and down to earth storytelling style of comedy.
Adee has also played an important role in bringing standup comedy to the Inland Empire and the High Desert in California. He is founder of OMG Comedy, Adee's Comedy House, and the Laff Lounge. Currently producing NEO Soul Tuesday's in San Diego California. In addition, he is involved with helping nonprofits raise funds for their organizations such as Help for Brain Injured Children, Angels Nest Transitional Living Program, Pop Warner Football and Junior Basketball programs and foundations.
Adee has performed on stage at Improv Comedy Clubs, Laugh Factory Comedy Club, Jazzbones, Cobb's Comedy Club,Flapper's Comedy Club, Rio Las Vegas, Uptown Comedy Club in Atlanta, radio and many more.
Adee is a versatile entertainer who can connect with diverse audiences of all ages. His passion for comedy continues as he embarks on his career as a comedian, actor, and host. You will find Adee performing at comedy venues, corporate events, colleges, and universities. His roots are his motivation to inspire others through comedy to become better people.